Kanair HL Series Linear hydraulic actuator uses basic piston type cylinder with few moving parts, thus assuring reliability and long life. A hydraulic actuator provides high thrust in a small overall envelope dimensions compared to that from any other technology. Inherent hydraulic oil lubrication and enclosed construction allow the use of the hydraulic actuator even in the most hostile conditions such as hot and cold environments, corrosive conditions, submerged applications etc. See picture on the right.
CLICK HERE FOR ORDERING HL SERIES ACTUATORS
FEATURES:
Heavy Duty Steel Cylinders with chrome plated rod (Stainless Steel rod option)

Tie Rod construction.

Thrust ranges up to 300,000 pounds.

Stroke up to 96 inches.

Cylinder Bore up to 12 inches

Pressures up to 3000 psig.

Overload protection by travel stops within the cylinder.

Special valving when required ( thermal relief valves, counterbalance valves, pilot operated check valves, speed control valves, etc.)

On-Off (Open/Close) type or modulating ( 4 to 20 mA)

Solenoid Valves, limit switches, and control stations when required.

Manual Override (Hand wheel or Hand Pump)

Valve Adaptation to match the valves.

Retrofit adaptation to existing valves.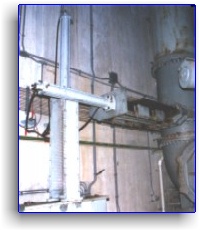 The picture above shows two hydraulic actuators used in a waste water plant on 48" and 54" sluice gate valves. The actuators continue to operate even after more than seven years without any repair even with a flooding in the area. The customer saved thousands of man-hours of labor by choosing a hydraulic system for valve operation (16 actuators are used for this application)
---
WHERE USED:
Wedge Gate valve, Knife Gate Valve, Sluice Gate Valve and Globe valves.

Rising Stem Ball and Plug Valves.

Wherever linear motion is required.

Used in door mechanisms, grain elevators, and motion controllers.

When used as part of a four-bar crank arm mechanism, the actuator can be used for ball and butterfly valves.
BENEFITS:
Compact Design

Few Moving parts

Easy to control speed of operation.

Can be mounted in any position

Self Lubricating

More tolerant to severe environment.

Smooth, jerk free operation even in sticky valves.